I rarely manage to sleep on long flights and this was no exception. Too much noise, anticipation of a new trip or just flying over parts of the world I have never seen and might never see again? Who knows…but the fact is that over time I came to terms with it. So by the time our flight landed in Bangkok, around 7 AM local time, I was pretty much exhausted, but it didn't take long until the excitement kicked in.
Bangkok's airport had a familiar feel, the immigration queues, the well known 7 Eleven shops, the SIM card boutiques and then the well known, Sky Train which takes you into the heart of the city. And the truth is, you don't really get the vibe of the city until the moment you step off it. Cause then is when it all hits you – the heat, the humid air, the noise and sometimes, a rather strong, particular smell, but more on that later.
Bangkok is a city like no other, a mix of old and new with modern stunning skyscrapers amidst dubious ghettos, Michelin start restaurants next to street food stalls and high speed highways intersected with chaotic roads to name of a few. I will never forget the moment I first steeped foot in it and I will dedicate a separate post for that, but what I am sure anyone would agree on is that this city is always alive and ready to make in impression!
And as we were driving fast through the crazy traffic to our rented apartment, in a condo further down south along the Chao Phraya river, passing palm trees, temples, luxury hotels and messy street markets, all sun-drenched in the hot January Thai sun, it didn't take long till I finally dozed off on the leather dressed back seat of an old, rusty cab.
The views from the 30th floor were better that I had expected, but unfortunately the city was covered in a thick, gray smog that only seemed to clear up a little in the afternoon. You get used to it eventually, but I only realized how bad it was one month later, as I was driving back home from the Belgrade airport and couldn't believe how deep blue, crystal clear the sky can be.
I wish I could say that after a couple of hours of sleep I woke up feeling fully refreshed, but that was quite far from the truth. Feeling more like during a full blown hangover, we agreed that strolling along the river bank in the hope of capturing the beautiful Wat Arun temple in the light of the sunset would be a suitable activity for the rest of the day.
Easier said than done as regardless of how many times we tried to get the right public transport boat and get off at the correct station we were ending up in a totally different place. Not sure whether it was because of how Thai people speak English or the fact that we were just too tired to think straight, but honestly, it was a lovely afternoon during which we ended up discovering some nice boutiques, a university campus just next to the river and possibly the biggest flower night market I have ever seen, packed with the yellow flower ornaments that can be seen decorating every spirit house in Thailand (those small roofed, temple shaped structures usually mounted on pillars).
When we eventually reached Wat Arun after dark there was no one there. The stillness and quietness of the place were truly calming and although I had been there previously during the day, there was just something magical about the warm breeze gently blowing through the fragrant bloomed ficus trees in the temple gardens.
And even though during the next month I have spent in Thailand I have visited quite a few number of temples, for me, this one spoke to my soul.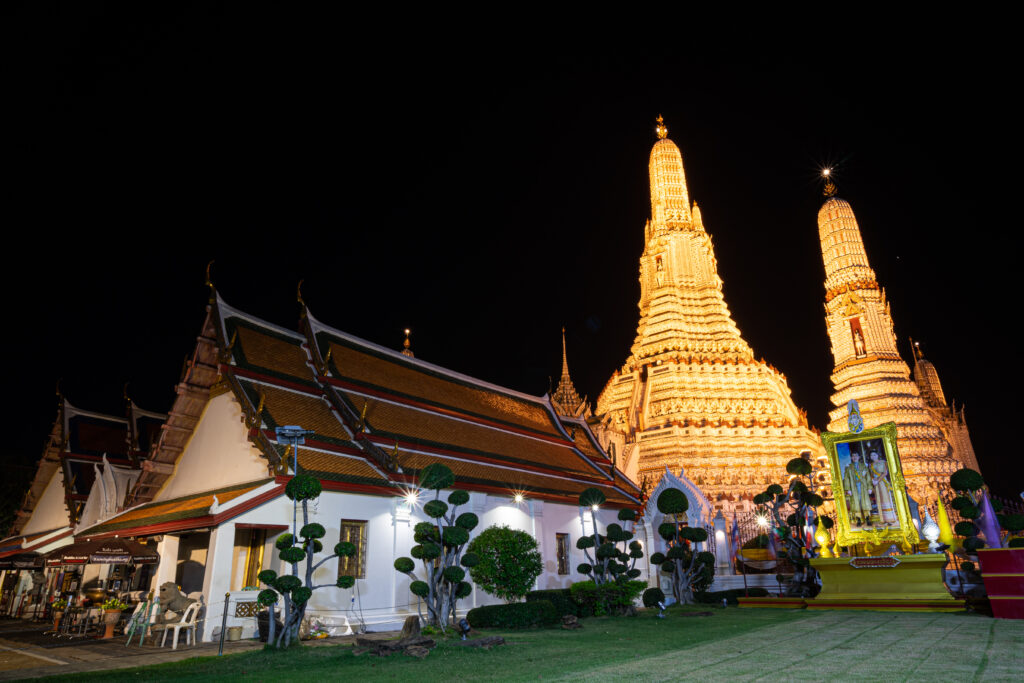 Now there is definitely no doubt that Bangkok has something to offer for everybody and while the next morning we went to the infamous Khao San road and indulged in a delicious coconut icecream, admired the interesting varieties of food on display (this includes scorpions) and walked around what seems to be every backpacker's paradise, we eventually went out seeking a more authentic experience.
We thus ended up at a local restaurant where I tried out a papaya salad with fermented fish for the first time (I promise to write a blog post dedicated to Thai food) and then headed to Lumphini park in search of the giant lizards, or what I call the "dragons".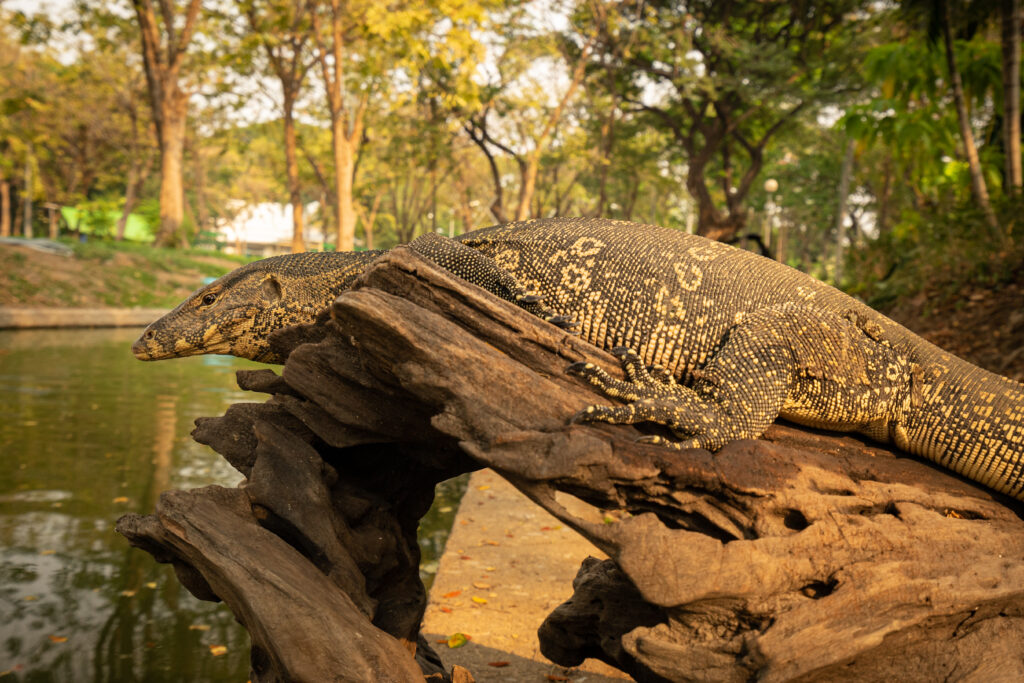 But aside from the three meter long, giant monitor lizards who have long made the park their home, Lumphini is an oasis of green right in the heart of the chaotic Bangkok and for us, a great way to hide from the burning sun at noon.
Now for people that have known me for a while it may come as a surprise that I dedicated almost an entire day to visiting a mall, as shopping is surely not my thing. But when it comes to the Icon Siam Mall in Bangkok, it's one of those things that has to be seen by everybody at least once. Even if only for its stunning architecture, opulence luxury and cultural diversity, to name a few. This center is not only an indoor floating market, an impressive display of hand made crafts and an exhibition of state of the art decorations, but so much more.
From playgrounds to co-work spaces and beyond, Icon Siam can be compared to a must-see modern museum and the views from the terraces are also not to be missed!
As our few days in Bangkok were coming to an end, there was one more thing to see before we headed of to more exotic places. Not that this would be all that the city has to offer, but if there's one thing that I've learned after a few years of travelling is that there's no point in trying to see it all at once; there are things that are not meant to be rushed, they need to be explored, felt, digested, each at its own pace. And despite knowing all that, the Grand Palace still proved to be quite a challenge.
The alarm rang early. Too early and the dragging feeling of now knowing whether it was day or night each time I woke up started to become quite unbearable. I guess this is the dark side of travel that not many people talk about.
I had done my homework (or so I thought), I knew I had to get there early to beat the crows in order to be able to fully enjoy the experience or at least get the chance to take some decent shots before the most popular tourist spot in Thailand would get flooded by tourists. But so did the other hundreds of people that were queuing in front of us, first thing in the morning, right at the palace gates.